Description
Electric Centrifuge Machine 4000 rpm Desktop Lab Benchtop Centrifuges with Timer & Speed Control Capacity 20ml×6 800D 110V US Plug, 60HZ.
The motor components have a high degree of tightness, the motors run stably, have zero error design, and are efficient and stable.
Pure copper wire is fixed on the stator by winding, and the magnetic field is fixed during the stroke. The higher the copper content, the stronger the magnetic force, the stronger the rotor power, the higher the rotation speed, and the greater the centrifugal force.
The motor and the base plate are connected by a damping column. With an integrated circuit, the motor rotor runs smoothly, which can avoid motor vibration and is firm and stable.
The machine shell is made of high-strength plastic. Its structure is quite simple and easy to operate.
A round centrifugal head with a top cover reduces noise.
| | |
| --- | --- |
| Speed Range | 0-4000r/min |
| Capacity | 20mlX6 |
| Power | 110V US Plug |
| Timing | 0-60min |
| Power | 50W |
| Machine Weight | 2.5kg/5.5lb |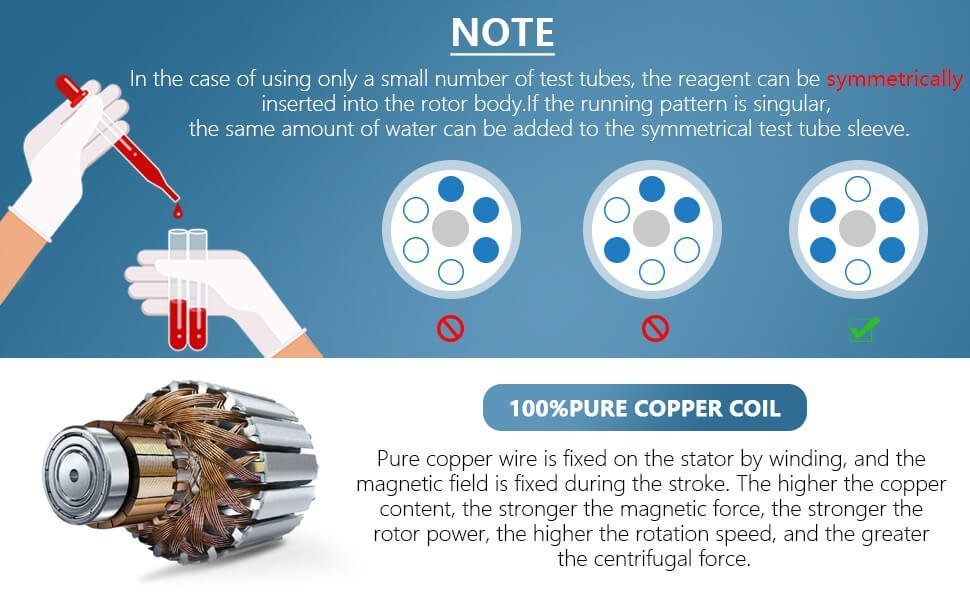 The following test tubes can be put into the 800D centrifuge: 10ml, 15ml round bottom plastic centrifuge tube or 5ml, 7ml, 10ml collection tube.

This product has Timing/rotation switches, and the value is quite clear.

This product has the advantages of a beautiful appearance, small size, lightweight, and large capacity. Besides, it can also control working hours and is easy to operate.

The electric centrifuge is a conventional laboratory centrifuge. The instrument has the advantages of large capacity, low temperature rise, low noise, convenient operation, safety, and reliability.